by Mike DePilla
What do you do with a player whose

contract is awful
defense is worse and

best skill is tweeting?
That is the riddle the Sox have to solve surrounding Mark Teahen, who has a serviceable bat- not really starter-quality but better than a AAAA-er, but no place to play. He was superficially in a battle for the starting third base job, where his bat would have played, but his chances there went from slim to none after making four errors defensively this past weekend.
James at White Sox Observer covered the atrocity that was/is Teahen's defense,
detailing his failings in the field
and going on to say that his need for at bats could threaten other more-productive areas of the line up as well if he doesn't start at third. And he's not going to start at third.
The man already has slow reflexes, no range and bad hands. Now he can't throw either. The only things worse left for him to do are to forget how many outs there are and/or hand a live ball to a baserunner to do with what he pleases. To state the obvious, the Sox have no use for Teahen, and would be ecstatic to deal him and his contract out of town, even if they had to eat a small part of it.
All that said, the man is still relatively capable with the bat. A couple months ago, JJ from
White Sox Examiner
pointed out that Teahen posted a respectable .276/.342/.418 slash line with a .336 wOBA against lefties in 2010. Though he was awful against righties, that could make for a good platoon partner. Optimist that he is, Bill James projects Teahen to hold down a .269/.339/.404 line with a .330 wOBA this season. That's nothing special, but it's also something that, with a not-impossible tick upward, theoretically could be valuable. To
another team
that is.
Phil Rogers hinted yesterday that the Angels, who are allegedly
"looking for left-handed hitting,"
might have been at least casually scouting Teahen. With a crowded outfield and Bobby Abreu at DH, I don't know where the Angels would put Teahen. Third base obviously isn't an option. Maybe they picture Teahen as ideal for a rotating utility role, or a fill in at first base, if Kendry Morales isn't ready for Opening Day.
But really, if the Angels call the Sox about a guy who can play first base, isn't there some MLB bylaw or statute that dictates they have to inquire about Paul Konerko first? Where is Casey Kotchman these days anyway? National League teams, who have more use for pinch hitters and utility players, might have some interest in Teahen as well.
In any case, barring any crazy injuries or massive ineffectiveness to other players like Carlos Quentin, Adam Dunn, Paul Konerko or, I guess, Brent Morel and Omar Vizquel, that rotating utility role is the one for Teahen if he remains with the Sox. But it's not a very important one with the Sox.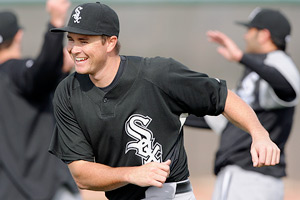 The DH position is, thank goodness, settled this season, so there won't be any openings for starts there, and there aren't many instances in which Teahen will be useful coming off the bench. Not counting games in NL parks, the only batters in the regular line up that the left-handed hitting Teahen would ever even conceivably pinch hit for late in a game are Morel and
maybe
Ramon Castro. (But if Castro's starting, AJ Pierzynski is more likely to pinch hit against a right-handed reliever).
If Ozzie is looking for outfield defense, Alejandro De Aza, who can capably play all three spots, is a better choice. Brent Lillibridge is also a more versatile defender, and faster runner than Teahen, further limiting his opportunities. If Ozzie's looking for a third baseman and Teahen's name comes up, all parties should be shot.
There's always the chance that Quentin gets injured, opening a door in right field for a starting spot. In that case, Teahen would be likely ahead of De Aza, Lillibridge and Lastings Milledge, but probably behind Dayan Viciedo, who is tearing the cover off the ball this spring while adjusting to playing the outfield. Viciedo's solid spring shouldn't get him a spot on the Opening Day roster- it would be a waste for him not to get regular at-bats and defensive reps in Triple-A Charlotte- but if an everyday job opens up Viciedo is a good bet to outperform Teahen.
So that leaves two roles for Teahen: spot-starting for Quentin in right field occasionally, and playing first base defensively if Konerko/Dunn is pulled for a pinch-runner. For $4.75 million this year and $5.5 million next year.
The question is, can Teahen, or the Sox, convince the Angels or anyone else who comes a-callin' that his versatility- he's fine in RF or 1B- combined with his left-handed bat and friendly personality would make him a solid contributor in a part-time role. Depending on how much of the contract the Sox are willing to eat, I say there is a 50-50 chance he is tweeting from a different dugout on April 1.